LAMBORGHINI URUS (2018) SUV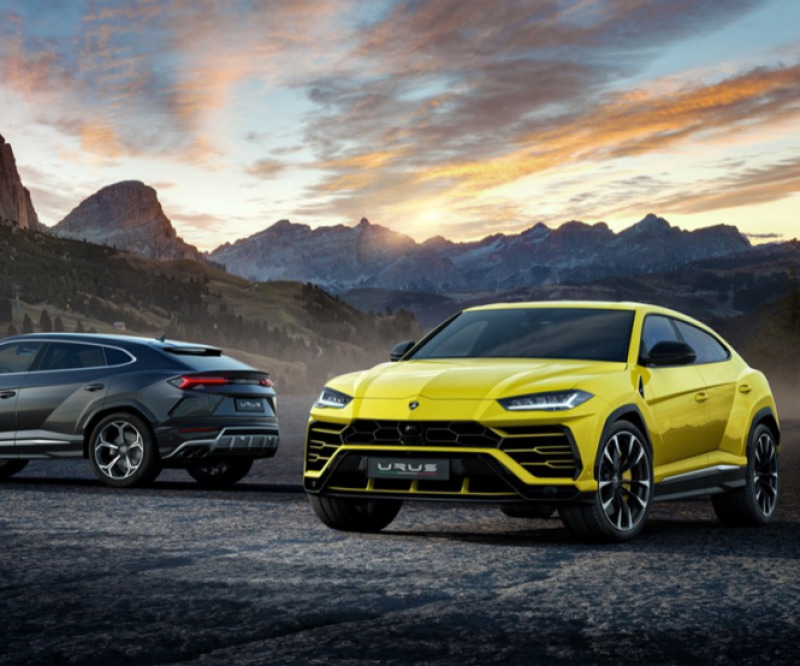 Lamborghini Urus (2018) SUV: everything you need to know
Published: 11 January 2018
AddThis Sharing Buttons
Share to FacebookShare to TwitterShare to PrintShare to EmailShare to More
Lamborghini Urus (2018) SUV: everything you need to know
> Lamborghini Urus is the first proper Lambo SUV
> Based on Volkswagen Group's MLB Evo platform
> On sale this year, prices from £165k
Five years after we first saw the concept, the production version of the Lamborghini Urus is here. The Urus is Lamborghini's first attempt at a modern high-performance crossover, and it's going to spearhead an entirely new generation of ultimate sports SUVs.
The Lamborghini Urus was unveiled at an event in the Sant'Agata factory last year, and CAR was on hand to cover the new SUV with a sportcar heart. Here's everything you need to know about the 2018 Lamborghini Urus.
Lamborghini Urus: price and when to buy
Expect right-hand drive sales to start in late summer 2018, priced from around £165,000, a whisker above the Huracan sports car's entry point of £155k.
Lamborghini Urus twin
Lamborghini Urus: design
The new Urus is a radical departure for a brand better known for low-slung sports cars. This is, arguably, a high-slung sports car - the wedge and angular ostentation of Lambokind transferred to the taller, tip-toe look of the crossover genre.
Underpinning it all is the Volkswagen Group's MLB Evo platform, used here in longer-wheelbase spec as seen in sister off-roader the Bentley Bentayga. It makes for a properly roomy cabin for four, and there's a decent, suede-lined 616-litre boot with split-fold seats, too.
Despite the dramatic styling changes, you may - just - detect hints of Audi Q7, Porsche Cayenne and VW Touareg in the hard points and stance of the new Urus, for they all share the fundamentals of the same group architecture.
Lamborghini Urus: the specs
You bet. The launch car uses a familiar group 4.0-litre bi-turbo V8, with some pretty louche Lambo performance credentials. It pips the top speed of its in-house Bentayga rival by the thinnest of 3mph margins, as revealed in the Lambo Urus specs:
Layout 90deg V8, 32 valves, twin turbocharging
Capacity 3996cc
Power 641bhp @ 6000rpm
Torque 627lb ft @ 2250-4500rpm
Transmission Eight-speed automatic, all-wheel drive
Top speed 189mph
0-62mph 3.6sec
0-124mph (0-200kmh) 12.8sec
Economy, emissions Not yet calibrated
Yes, you read that right. This is the first turbocharged Lamborghini production car. And the lumbering Lambo SUV is as quick as the Huracan two-door in most measures - even if it's unlikely to compete with its shrieking V10 howl…
Lamborghini Urus carousel rear tracking
Braking is provided by ceramic rotors front and rear, measuring a whopping 440mm in diameter on the front axle. Engineers quote a 62-0mph stopping distance of 33.7 metres.
Seven things we learned driving a Urus prototype
Lamborghini Urus: performance and handling
The blown V8's thrust is tamed here by the most sophisticated all-wheel drive system yet seen on a production car wearing the raging bull badge.
Drive is apportioned to all four wheels via a central Torsen differential splitting torque front and rear, while an active rear diff with torque vectoring ability shuffles drive from left to right.
Engineering chiefs are confident the Urus behaves more like a rear-wheel drive car than the occasionally dull all-paw machines produced by parent company Audi.
Tellingly, the Urus sports rear-wheel steering to lend the Urus an agility that belies its size (this is a big car, at 5112mm long and 2016mm wide). The rear wheels steer by up to 3deg to assist with agility and manoeuvring, depending on how fast you're going.
Lamborghini Urus interior
This is no lightweight: the launch model weighs a stout 2200kg, despite extensive use of aluminium and lightweight steel throughout.
The Urus will be built in a brand new factory at Sant'Agata, which in time should double production at the Italian car maker from today's 3500 cars annually.
Lamborghini Urus: off-road capability
C'mon! Do you really think customers are going to risk getting their 23-inch alloy wheels shod in bespoke Pirellis muddy on a regular basis?
Mind you, if they do venture off the beaten track, they'll probably be surprised just how far the Urus will go.
Lamborghini Urus off-road
Adjustable air suspension provides 9cm of extra ground clearance when set in off-road mode, rising to 248mm clambering height when prepped for off-roading duties.
Lamborghini Urus: drive modes
Worth noting inside is the new Tamburo driving dynamics selector, letting owners programme the car's engine, transmission and traction management systems in one of the following modes:
Corsa Track set-up
Sport Dynamic driving
Strada Road
Neve Snow
Terra Off-road
Sabbia Sand
The system will tailor the air suspension and electromechanical anti-roll bars - the first application in a Lamborghini - to make sure the Urus is set up for any which condition.
It's certainly a more rounded proposition than the LM002 of 30 years ago (below); Lamborghini helpfully gathered half a dozen together for the occasion - and even drove one through the auditorium before the Urus's world debut, leaving a high-octane tang to the air for several minutes. A timely reminder of the excess and wild fun inherent in the greatest Lambos.
Source :https://www.carmagazine.co.uk